Magic Mike Children entertainers in Australia takes the pressure off you entertaining the kids
Keeps the kids at bay while you manage things
Animals magically appear from nowhere!
Birthday child becomes 'the feature' in show
Recognised as best child care show 2008
No Fun… No Fee, Guaranteed!
Prices $295 Home Party, $350 Commercial
"Ive never seen kids laugh so much; Magic Mike Children entertainers in Australia enthralled them from start to finish" Sarah (Brisbane)

Would You Like One Of The Most Entertaining Kids Magicians In Brisbane And The Gold Coast?
A childrens party magician that will give kids the most fun and memorable time that will be remembered by friends and family long after your kids birthday party is over.Well congratulations! You have stumbled across Magic Mike Birthday Parties for Kids, one of the funniest kids magicians in Brisbane and the GoldCoast. Mikes kids birthday show was recognized as the top pick kids entertainer show for the childcare Industry in Brisbane and the Gold Coast.
Do you want your childrens entertainer to be this much fun?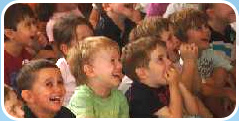 Mike can do the same for your childrens party
Dear Magic Mike, I was skeptical at first picking entertainment online…readmore
Thanks so much, Sara. (Brisbane)
Exceptional fun with continuous audience participation from start to finish
A father and a professional kids party magician with 17 years experience
An excellent way to entertain with less injuries, risk, liabilities and stress
30 minute show + 15 minutes to feed pat and cuddle marshmallow the rabbit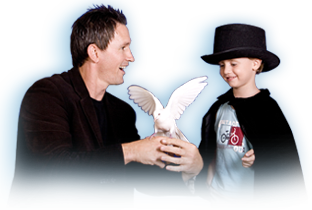 Birthday Bonus 1 ($9.95 value)
To help you fill in time on the day and to save spending more money on other entertainment services you receive a free childrens' birthday games eBook with over 220 fantastic childrens' birthday games; they are new and exciting games, the kids will love them.
Birthday Bonus 2 ($9.95 value)
As a gift Magic Mike will make 2 balloon animals for the birthday child.
Birthday Bonus 3 ($9.95 value)
A free magic themed birthday invitation template you can use for invitations.
Prices for shows!
Cost of stage show with animals: $250
The show can be set up in a lounge room. Mike produces a white bird from a flat book then turns the white bird into a giant white rabbit from a collapsible illusion, the kids feed the rabbit after the show. Show runs for 30 minutes + 15 minutes to feed the rabbit.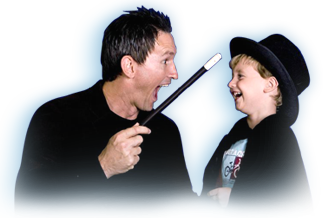 TERMS OF HIRE:
If your event is cancelled due to weather or any other circumstance no remuneration applies.
Or ring Gold Coast Magician –
Magic Mike (Magician Gold Coast)
directly on
0414 658 075